Writer
Area of Expertise: Media, Women's Rights
Geographical Expertise - Region: Europe, North Africa and Middle East
Languages: Dutch, English
Field of Work: Author/Novelist
City: Amsterdam
Country: The Netherlands
Continent: Europe

Email: yasmine.allas@theglobalexperts.org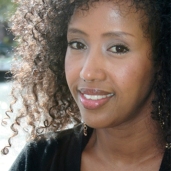 Yasmine Allas has written three novels (Idil, a Girl, 1998; The General with the Six Fingers, 2001; and The Blue Room, 2004). Yasmine has also written for de Volkskrant, one of the leading newspapers in the Netherlands.
An edited version of her articles was published in 2006 as Ontheemd en toch thuis (No Home and Yet a Home). A tribute speech to the murdered Dutch filmmaker Theo van Gogh was added to the book.
Born in Somalia in 1967, Ms Allas left the country on her own at a young age and arrived in Amsterdam in 1987 where she started her career as an actress with a theater group called The Trust. Besides writing, Yasmine Allas is an active member of the Marhaba Organisation, a cultural and social foundation with Islamic roots, which aims at building bridges between the different groups which are living in the Netherlands. Yasmine Allas appears regularly on radio and television in the Netherlands since 1998. In 2006, Yasmine Allas appeared with Paul Rosenmoller in a show that was recorded in Hargeisha (North Somalia).