Senior Lecturer, Middlesex University
Area of Expertise: Religion, Terrorism, War and Conflict
Geographical Expertise - Region: Europe, North Africa and Middle East
Languages: Arabic, English
Field of Work: Academia, Religious Leader
City: Middlesex
Country: UK
Continent: Europe

Email: usama.hasan@theglobalexperts.org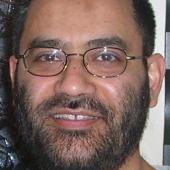 Dr. Usama Hasan is the Imam of Al-Tawhid Mosque, London, UK. He is also a Senior Lecturer in Computing Science at Middlesex University, a Planetarium Lecturer at the Royal Observatory Greenwich, and a researcher for the Islamic Sharia Council, London.
In 1998 Dr. Hasan received his PhD in Electrical Engineering at Imperial College, University of London. Prior to that Dr. Hasan received MA (Hons.) Theoretical Physics at the University of Cambridge and MSc (Distinction) Mathematics at King's College, London. Dr. Hasan successfully memorized the Koran at the age of eleven and has continued training in the traditional Islamic sciences ever since in the UK.
Dr. Hasan has served as a voluntary, part-time imam at various mosques in London and Cambridge for over 20 years. He has worked with the Islamic Sharia Council UK for the last four years, and hosted a weekly Question-and-Answer TV programme about Islamic Law on the popular English-language Islamic satellite channel, Islam Channel. While studying as an undergraduate at Cambridge University, he travelled to Afghanistan in 1990-1 and briefly trained and fought with the Muhajedin against the Afghan communist forces. Dr. Hasan is currently a member of the Academics and Theologians Roundtable, working with the Preventing Violent Extremism unit of the UK government. Dr. Hasan's background is the Ahl-e-Hadith branch of Islam, usually described as Salafi-Wahhabi.
His media experience includes: BBC Hardtalk, full 30-min interview as a moderate imam (August 2007); Featured in CNN's "The War Within" by Christiane Amanpour as a moderate imam opposing extremists and terrorists (January 2007); Contributor to The Washington Post/Newsweek online print series, "Muslims Speak Out" (July 2007); Panelist as a Sharia expert on Channel 4′s "Shariah TV," UK terrestrial TV (2004, 2006); Presenter, weekly Question-and-Answer programme on Islam and Islamic Law, "Islamiqa" Islam Channel, satellite TV (2004-7).