Assistant Professor, City University London
Area of Expertise: Civil Society, Media, Migration and Integration, Religion, Terrorism, Women's Rights, Youth Issues
Geographical Expertise - Region: Europe
Languages: English, French
Field of Work: Academia
City: Cambridge
Country: UK
Continent: Europe

Email: sara.silvestri@theglobalexperts.org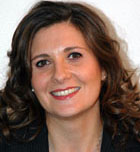 Dr. Sara Silvestri is a specialist on issues relating to the socio-political mobilisation of Muslims in contemporary Europe, the development of public policies towards Muslim communities, and the emergence of Islamic authorities and transnational networks.
Researching these issues has in turn generated her interest in dissent, radicalisation, counter-terrorism, changing notions of secularism, gender, youth, the governance of religious-ethnic plural societies, and the link between religion, violence and security. She also has a long-standing interest in intercultural and interfaith relations and the nexus migration-integration-social exclusion.
Dr. Silvestri is Assistant Professor at City University London, where she teaches courses on Political Islam and Religion in Global Politics. She is also a research associate with the Centre for Faith in Society at Cambridge, Advisor of the EuroMediterranean Foundation for Cultural Dialogue, and a member of the European Network of Experts on Radicalisation.
Dr. Silvestri has conducted and published interdisciplinary qualitative research, and organised workshops on these topics, both for academic and policy institutions. She is currently completing a book on Islam in Europe and is involved in two major ongoing collaborative projects: a comparative research on 'suspect communities', i.e. Irish and Muslims in Britain under similar terror contexts (ESRC-sponsored, with London Metropolitan University); the publication of the findings of a multi-country study on Muslims, security and social cohesion in Europe after 9/11 (with Ethnobarometer). Her most recently completed studies & consultancy projects concern Europe's Muslim women (for the King Baudouin Foundation), Muslim youth perceptions of the West (collaborative, for British Council), and the saliency of Islam in European politics (NORFACE-sponsored).
Dr. Silvestri is regularly consulted by governments, international organizations, and the media in her field of expertise. Her prior positions include a post-doctoral fellowship at Cambridge University, a visiting lectureship at Bristol University, an Associate Fellowship of Chatham House, London, and a role as a senior advisor with the European Policy Centre.
Latest articles from Sara Silvestri