Author
Area of Expertise: Media, Migration and Integration, Religion
Geographical Expertise - Region: Europe, North Africa and Middle East
Languages: English, French
Field of Work: Author/Novelist
City: Paris
Country: France
Continent: Europe

Email: rene.guitton@theglobalexperts.org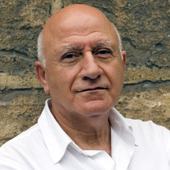 Rene Guitton is an author of books, theater and television scripts. Along with his day job, this relentless traveler with a degree in journalism, who studied theology and exegesis, is currently doing research on today's major monotheistic religions, on philosophy and various schools of thought.
Growing up in North Africa gave Mr. Guitton an impassioned thirst for knowledge about the history of the Catholic Church in the Islamic world. An ardent defender of human dignity and indefatigable builder of bridges between Eastern and Western religions and cultures, Rene Guitton has been working for a number of years to create philosophical, spiritual and religious dialogue.
He has become known for his work on using Abraham as a unifying symbol between Jews, Christians, and Muslims. This view has come directly as a result of the work he has been doing for several years in Mesopotamia and the Ancient Near East.
Mr. Guitton has been awarded various honors for his literary works. In 2002 he was awarded the Academie Francaise – Montyon Prize for philosophy and literature. For a text that "strives to raise moral standards", he won the Academie des Sciences d'Outre-mer (Overseas Academy of Sciences) – Lyautey Prize, 2002, and for a text that "strives to bring people together", Rene Guitton won the Freedom Prize in 2001. In 2006, Laura di Domenicantonio defended a thesis on his work in Italy at the University of Pescara entitled 'Rene Guitton, Sacredness in Contemporaneity'. In 1995, he joined the Hachette Publishing Group as the Director of Editions No. 1. Rene Guitton is also co-founder, director and jury member of the Francois Chalais cinema prize, awarded annually since 1996 at the International Film Festival in Cannes, in partnership with France Television. He is also the cofounder of the Europe 1 literary prize, and was a jury member from 2000-2005.
Latest articles from Rene Guitton