Minister of State, Turkey
Area of Expertise: Migration and Integration, Religion
Geographical Expertise - Region: North Africa and Middle East, Subsaharan Africa
Languages: Arabic, English, French
Field of Work: Academia, Author/Novelist, Government, United Nations
City: Izmir
Country: Turkey
Continent: Asia

Email: mehmet.aydin@theglobalexperts.org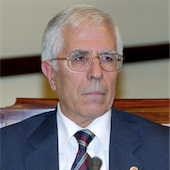 Professor Mehmet Aydin is one of Turkey's Ministers of State, responsible for overseeing the Directorate of Religious Affairs. He has taught philosophy of ethics, politics and religion at universities in Erzurum, Ankara and Izmir, Turkey, and served as Dean in the Faculty of Theology at Dokuz Eylul University in Izmir from 1993-1999.
Professor Aydin's scholarly contributions have focused on various philosophical and religious topics as well as on broader cultural issues, human right policies, dialog and so on. He became Member of Parliament for Izmir in the 2002 general elections in Justice and Development Party and Minister of State in the Turkish Council of Ministers and in charge of Religious Institutions, Turkish Population Residing Abroad, and Government's Relations with the Central Asian Republics. He was re-elected as Member of Parliament for Izmir in the 2007 general elections and is now Minister of State in charge of Science, Technology and Information. He is also co-chair of the United Nations Alliance of Civilizations.
In addition to numerous articles, Professor Aydin's publications include: Philosophy of Religion, Religion and Morality, Kant's Moral Argument and Its Influence on Modern British Philosophy, God – World Relationship in Light of Process Philosophy, Critical Self Reflections, Why? (all in Turkish), Turkish Contribution to Philosophical Culture (in English), Islam en Dialoog (partly in English, partly in Dutch). He is a member of many national and international academic societies and institutions.  He is also a former member of the Higher Advisory Committee for Human Rights.
Professor Aydin was born in Elazig in 1943. He graduated (with B.A. honors) from Ankara University, Faculty of Theology in 1966. His PhD in History of Philosophy is from the University of Edinburgh (1971). He speaks English, French and Arabic and is married with two children.