Writer
Area of Expertise: Religion
Language: English
Field of Work: Academia, Author/Novelist
City: London
Country: UK
Continent: Europe

Email: karen.armstrong@theglobalexperts.org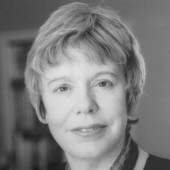 Karen Armstrong spent seven years in the Society of the Holy Child of Jesus during the 1960s and later wrote a tell-all book, Through the Narrow Gate (St. Martin's Press, 1982) that bemoaned the restrictive life within the convent.
Ms. Armstrong is still hearing about the book: "Catholics in England hate me. They've sent me excrement in the mail." Readers who have followed her lately are learning her more optimistic ideas about what Islam, Judaism and Christianity have in common with A History of God (Ballantine, 1993), Jerusalem: One City, Three Faiths (Knopf, 1996) and The Battle for God (Knopf, 2000), which all focus on what unites the three great monotheistic faiths.
It was Ms. Armstrong's first trip to Jerusalem in 1983 that piqued her interest in commonality among faiths. At the time she was an atheist who was "wearied" by religion and "worn out by years of struggle." Born a Roman Catholic in the countryside near Birmingham, England, in 1945, she gave up on religion after her time in the convent. "I was suicidal," she said of life in her late twenties. "I didn't know how to live apart from that regimented way of life."
With an undergraduate degree in literature from Oxford University, she began teaching 19th and 20th century literature at the University of London and worked on a PhD. Three years later, her dissertation was rejected. Without it, she did not qualify to teach at the university level and took a job as head of the English department at a girls' school in London. Not long afterward, she was diagnosed with epilepsy. "After six years at the school I was asked to leave, but nicely" she said. "My early life is a complete catastrophe. It all worked out for the best." She left the school in 1982 and began working on television documentaries.
The story that took her to Jerusalem set her on a new career path and changed her earlier impressions about God. She went from an atheist to a "freelance monotheist" but has never returned to the Catholic Church or joined any other organized faith community. Since her writing career took off, Ms. Armstrong's communion with God occurs in the library, where she spends up to three years researching her books, which are as densely packed with detail as her conversations. "I get my spirituality in study," she said. "The Jews say it happens, sometimes, studying the Torah."
Ms. Armstrong says, "It's inevitable that people turn to more than one religious tradition for inspiration," she said. "It's part of globalization." She recently read from the Buddhist canon of teachings for her next book. "Religion is like a raft," she said, explaining the Buddha's view of it. "Once you get across the river, moor the raft and go on. Don't lug it with you if you don't need it anymore."
She is the author of numerous books on religious affairs which have been translated into forty languages. She is also the author of three television documentaries and took part in Bill Moyers' television series Genesis. Since September 11, 2001, she has been a frequent contributor to conferences, panels, newspapers, periodicals, and throughout the media on both sides of the Atlantic on the subject of Islam.
In 2005 she published A Short History of Myth, the first volume in an ambitious project undertaken by Canongate Books to retell the great myths of the world – a project that they estimate will take thirty years to complete. In 2006 she published The Great Transformation, and is now rewriting her biography of the prophet Mohammed. When asked about this project during an interview on New York Public Radio in 2006, she said, "I have rewritten my biography of the prophet Mohammed, based on the latest research – he was not a warrior, but he found himself, like many of the Axial Age sages, in a violent society and he eventually brought peace to the region by practicing a daring policy of non-violence worthy of Gandhi. He stopped the violence and went into Mecca unarmed and forced the Meccans to negotiate with him accepting terms that his followers thought were disgraceful."
Latest articles from Karen Armstrong