Head of Research, the Asian Media Information and Communication Centre
Area of Expertise: Civil Society, Media, Migration and Integration, Religion
Geographical Expertise - Region: Asia, North Africa and Middle East
Languages: English, Sinhalese
Field of Work: Journalist/Commentator, Think tank/Research center
City: Singapore
Country: Singapore
Continent: Asia

Email: kalinga.seneviratne@theglobalexperts.org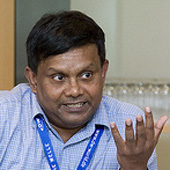 Dr. Kalinga Seneviratne is the Head of Research at the Asian Media Information and Communication Centre (AMIC) in Singapore. He is a journalist, radio broadcaster, television documentary maker and media analyst.
Born and raised in Sri Lanka, Dr. Seneviratne migrated with his family to Australia over 25 years ago. He started his media career with the community radio sector in Sydney Australia where he broadcast international affairs and multicultural programmes for over 15 years, winning two major awards for his work. In 1987 he was awarded the UN Media Peace Prize for a series on the relationship between rich and poor countries, and in 1992 he won the inaugural Singapore Airlines Educational Award from the Community Broadcasting Association of Australia for his services to the community radio sector in Australia.
He was also the Australian and South Pacific correspondent for Inter Press Service (IPS) news agency from 1991-1997 and has also done reporting assignments for them from over 25 countries, including being part of the 'Terra Viva' conference newspaper reporting team at a number of UN conferences in the 1990s and the 2003 World Social Forum in Porta Alegre.
Dr. Seneviratne has taught international and intercultural communications, journalism and radio broadcasting, both in Australia and Singapore. He holds a Phd in International Communications from Macquarie University, Sydney.