International Director of Interreligious Affairs of AJC
Area of Expertise: International Relations, Religion, War and Conflict
Geographical Expertise - Region: Europe, North Africa and Middle East
Geographical Expertise - Country: Israel
Languages: English, Hebrew
Field of Work: Activist/Humanitarian, Non-Governmental, Religious Leader
City: Jerusalem
Country: Israel
Continent: Asia

Email: david.rosen@theglobalexperts.org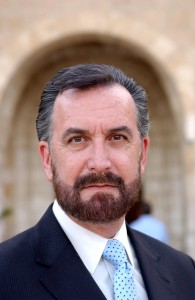 Rabbi David Rosen is International Director of Interreligious Affairs of AJC and its Heilbrunn Institute for International Interreligious Understanding. 
Former Chief Rabbi of Ireland and a past Chairman of IJCIC, the International Jewish Committee on Interreligious Consultations (a broad-based coalition of Jewish organizations representing world Jewry to other religions), he is a co-president of the World Conference of Religions for Peace, Honorary President of the International Council of Christians and Jews, and serves on the Executive of the World Council of Religious Leaders and on the Elijah Institute's Board of World Religious Leaders.
Rabbi Rosen received a papal Knighthood in 2005 for his contribution to Jewish-Catholic reconciliation and in 2010 he was made a CBE (Commander of the British Empire) by H.M. Queen Elizabeth II for his work promoting interfaith understanding and cooperation.
Rabbi Rosen's expertise often leads the media to call upon him for commentary regarding topics related to interreligious affairs. He has an extensive amount of experience in television and radio broadcasting and interviews. He is regularly quoted in the world's major press on topics of religion and interreligious affairs, religion and politics, and peacemaking in the Middle East. Interviews with him, and his quotes, have appeared in The New York Times, The Washington Post, Time Magazine, Newsweek, and other major publications. He also has participated in TV broadcasts on ABC, CNN, and various cable networks around the world and is a regular participant in both local Israel and worldwide radio talk shows. He has also been featured in a major capacity in a number of documentary films throughout the past decade – among them Three Faiths, One God, Chasing God, and Religion, Identity, & Middle East Peace.