Former special advisor and head of Jerusalem Affairs for the Israeli prime minister
Area of Expertise: Law and Human Rights, Minority Rights, Religion, Terrorism, War and Conflict
Geographical Expertise - Region: North Africa and Middle East
Geographical Expertise - Country: Israel, Palestine
Languages: English, Hebrew
Field of Work: Activist/Humanitarian, Government, Think tank/Research center
City: Washington DC
Country: USA
Continent: North America

Email: daniel.levy@theglobalexperts.org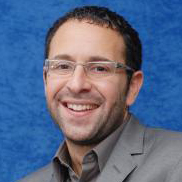 Daniel Levy is a Senior Research Fellow and Co-Director of the Middle East Task Force at the New America Foundation and a Senior Fellow and Director of the Prospects for Peace Initiative at The Century Foundation. He is former special advisor and head of Jerusalem Affairs for the Israeli Prime Minister.

He serves as a co-editor of The Middle East Channel, an online initiative of Foreign Policy Magazine and the Project on Middle East Political Science at George Washington University together with NAF's Middle East Task Force. The site has rapidly become the premiere destination for informed online discussion of the Middle East.
During the Barak Government of 1999-2001, Levy worked in the Israeli Prime Minister's Office as special adviser and head of Jerusalem Affairs, following which Mr. Levy worked as senior policy adviser to then Israeli Minister of Justice, Yossi Beilin. In this capacity he was responsible for coordinating policy on various issues including peace negotiations, civil and human rights, and the Palestinian minority in Israel. Mr. Levy was a member of the official Israeli delegation to the Taba negotiations with the Palestinians in January 2001, and previously served on the Israeli negotiating team to the "Oslo B" Agreement from May to September 1995, under Prime Minister Yitzhak Rabin. He also served as the lead Israeli drafter of the Geneva Initiative, a joint Israeli-Palestinian effort that suggests a detailed model for a peace agreement to end the Israeli-Palestinian conflict.From 2003 to 2004, he worked as an analyst for the International Crisis Group Middle East Program.
Mr. Levy received a Bachelors and Masters with Honors from King's College, Cambridge; he was awarded prizes in Social and Political Science. He left the UK for Israel in 1991 when elected Chair of the World Union of Jewish Students in Jerusalem, a position he served in from 1991 to 1994, after which he enlisted for a year of military service in the Israeli Defense Forces as a non-commissioned officer. In the late 1990′s, Levy was Projects Director for the Economic Co-operation Foundation, a policy planning think tank in Tel Aviv, mainly engaging in Track II diplomatic initiatives. He has published extensively in a broad range of publications.
Mr. Levy was a founder of the J Street organization, the pro-peace pro-Israel movement that has become prominent since its launch in April 2008, and he continues to serve on their advisory board. He blogs at www.prospectsforpeace.com and posts regularly on sites such as TPM Café, the Huffington Post, the Guardian Unlimited, and ForeignPolicy.com. He is a regular Middle East commentator on TV and radio, including with BBC, CNN, PBS, and Al Jazeera.
Latest articles from Daniel Levy