Former head of BBC Persian and Pashto Service
Area of Expertise: Civil Society, Law and Human Rights, Media, Religion, War and Conflict
Geographical Expertise - Region: Europe, North Africa and Middle East
Languages: Arabic, English, Farsi, Pashto, Persian
Field of Work: Author/Novelist, Journalist/Commentator
City: London
Country: UK
Continent: Europe

Email: baqer.moin@theglobalexperts.org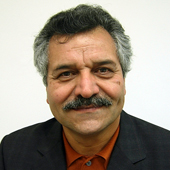 Baqer Moin is the director of Jadid Media, a London based independent organisation for content production, consultancy and media development.
Mr. Moin been writing and broadcasting on society and politics in Iran, Afghanistan and Central Asia for the past three decades. His main areas of expertise are media, governance, civil society, and intellectual developments in Islam, and relations between Islam and the West. He often appears on major media organizations including the BBC, Al Jazeera and others in English, Arabic and Persian.
Mr. Moin was deputy chair of the UN Media Commission for the Afghan parliamentary elections in 2005. As head of the BBC Persian and Pashto Service 1990-2004, he was responsible for the BBC's broadcasts to Afghanistan, Iran and Tajikistan. He has contributed to a number of consultancy papers for the European Commission and EU countries on public service broadcasting in Afghanistan.
Mr. Moin was born in Nishabour, north east Iran. He studied Arabic, Persian and Islamic Jurisprudence in the city of Mashad, and Modern Arabic literature at Tehran University. He worked as an assistant editor with a publishing house in Tehran. In 1973 he came to Britain. He joined the BBC World Service in 1976.
In 1986 he was a senior associate fellow at St Anthony's College, Oxford where he undertook research on modern Iranian history. He has written, translated, and contributed to a number of books on religious, cultural and social issues including Khomeini: Life of the Ayatollah, on the Iranian revolution, published in 2000. In 2002 the Commonwealth Broadcasting Association awarded Mr. Moin the Elizabeth R Award for his contribution to public service broadcasting.