Secretary-General, Central Council of Muslims in Germany
Area of Expertise: Religion
Geographical Expertise - Region: Europe, North Africa and Middle East
Languages: Arabic, English
Field of Work: Activist/Humanitarian, Journalist/Commentator, Non-Governmental
City: Cologne
Country: Germany
Continent: Europe

Email: aiman.mazyek@theglobalexperts.org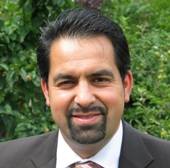 Aiman A. Mazyek is a German journalist, media consultant and Secretary of the Central Council of Muslims in Germany.
The son of a Syrian father and a German mother, he studied philosophy, economics and political science in Aachen before completing studies in Islamic science in Cairo.
Since 1994 he has belonged to the General Assembly of the Central Council of Muslims in Germany. From 2001-2004 he was spokesman of the Central Council, and from 2006 the Secretary-General.
He has been involved in German local politics as chairman of the Free Democratic Party (FDP), local committee of Alsdorf, and a member of several expert committees in the parliament of North Rhine-Westphalia.
In April 2007 co-founded the humanitarian charity Green Helmets, which aims to reconstruct villages, schools and ambulances in destroyed regions. He is also engaged extensively in Christian-Islamic dialogue and is a member of the Christian-Islamic Society. He is the technical director and managing editor of the Web portal islam.de.