World Youth Alliance President
Area of Expertise: Politics and Governance
Geographical Expertise - Region: Subsaharan Africa
Language: English
Country: USA
Continent: North America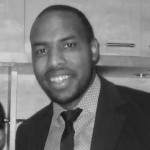 Obadias Ndaba is the President of World Youth Alliance, an international organization with consultative status with the United Nations and European Union, among other organizations.
Obadias was born in D.R. Congo and moved to Rwanda when he was a teenager. He holds a bachelor's degree in Economics from Kigali Independent University and a certificate in Nonprofit Financial Stewardship from Kennedy School of Government.
Prior to joining World Youth Alliance in January 2010, Obadias worked for KCB Bank and Inkingi Microfinance in Kigali, Rwanda.
Obadias is a regular commentator on African affairs. His interests include economics, governance, development, population and youth issues. His articles, on these issues, have appeared in Africa News, The Standard Kenya, AllAfrica, National Review and Africa Review, among many other publications. He speaks Kinyarwanda, Swahili, French and English. He lives in New York City.