Investigative journalist and founder of Silent Heroes, Invisible Bridges
Area of Expertise: Civil Society, Media, Migration and Integration, Politics and Governance, Religion, Terrorism, War and Conflict
Geographical Expertise - Region: Asia, North Africa and Middle East
Geographical Expertise - Country: Pakistan
Language: English
Field of Work: Academia, Journalist/Commentator
City: Islamabad, Istanbul
Country: Pakistan, Turkey
Continent: Asia

Email: naveed.ahmad@theglobalexperts.org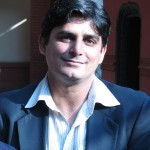 Contact: +92 321 5211117; +92 333 5211117
Twitter: @naveed360
Naveed Ahmad is a journalist and academic. He co-founded Silent Heroes, Invisible Bridges, a recipient of the UN X-Cultural Reporting Award 2010 for its work on inter-religious and inter-cultural success stories themed around the alliance of civilizations.
Besides stringing for Gulf News, The Guardian, South China Morning Post (Hong Kong), and ISN (Switzerland), he has been a special Investigative Correspondent for The News newspaper and lately for Geo News. He is a columnist for The News newspaper, Pakistan's largest selling daily.
His work has also appeared in The Atlantic Monthly. Besides winning the UN X-Cultural Reporting Award in 2010; he is a recipient of the Panos Media Fellowship on Conflict Resolution in 2006, Washington's National Press Center's Fellowship on Nuclear Non-Proliferation and Arms Control in 2004, and Jefferson Fellowship on 'Challenges of Globalisation' in 2000.
He is currently contributing to journals for Johns Hopkins University, Washington DC and Zirve University, Turkey.
Latest articles from Naveed Ahmad