Journalist, The Financial Times
Area of Expertise: Media, Migration and Integration
Geographical Expertise - Region: Europe
Languages: Dutch, English, German
Field of Work: Author/Novelist, Journalist/Commentator
City: Paris
Country: France
Continent: Europe

Email: simon.kuper@theglobalexperts.org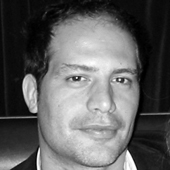 Simon Kuper is a journalist with The Financial Times, where he writes a weekly sports column for the paper.
However, he has a wide-ranging brief, and often writes about non-sports issues as well.  He has worked mostly for The Financial Times since 1994, with brief spells at The Times and The Observer. He also writes regularly for publications in Japan, China, Switzerland, the Netherlands, Germany and many other countries.
Mr. Kuper's specific fields of expertise are first, what sport tells us about politics, including issues of integration and immigration, and second, the contemporary Netherlands. He was raised in the Netherlands, speaks and writes Dutch fluently, and makes frequent research visits there. Mr. Kuper speaks comparatively about issues of Muslim immigration in different European countries. He has previously written and spoken to dispel the common misconception that Muslims in Europe are now in the process of creating 'Eurabia', a Muslim-dominated fundamentalist society that will take over Europe. He has been interviewed several times as an expert on television and radio (often the BBC) and in the print media. He has also presented sports documentaries on TV previously.
In addition to numerous articles on Islam and Europe in The Financial Times, Mr. Kuper's writing includes two books. Football Against the Enemy (Orion Books, London, 1994) is about the connections between football and politics in twenty-two countries around the world. It won the William Hill award for sports book of the year in the UK. His second book entitled Retourtjes Nederland (Atlas, Amsterdam, 2006) describes changes in Dutch society in recent years, particularly relating to integration and immigration.
Mr. Kuper attended school in Britain, the Netherlands and the United States. He subsequently studied history and German at Oxford University from 1988 to 1992, and received first-class honours. He also spent one year of his undergraduate degree at the Technische Universitat in West Berlin. He studied at Harvard University from 1993-1994 on a Kennedy Scholarship.