Director General, Council of Europe
Area of Expertise: International Relations, Media, Migration and Integration, Youth Issues
Geographical Expertise - Region: Europe
Languages: English, French
Field of Work: Government
City: Strasbourg
Country: France
Continent: Europe

Email: gabrielle.battaini-dragoni@theglobalexperts.org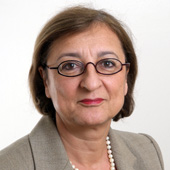 Gabriella Battaini-Dragoni is the Director General of Education, Culture and Heritage, Youth and Sport at the Council of Europe. She is the first woman ever to be nominated to the rank of Director General in the Council of Europe, a post she has held since 2001 when she was appointed Director General of Social Cohesion.
Since 2005, Mrs. Battaini-Dragoni has also been the Council of Europe's Coordinator for Intercultural dialogue. In this capacity, she oversees the preparation of the Council of Europe's White Paper on Intercultural Dialogue, the first paper of its kind at an international level.
Mrs. Battaini-Dragoni is frequently invited to serve as guest speaker at World Bank, UN, OECD, OSCE, and EU meetings. In 2001, she lectured at World Bank meetings in the US, Asia and Europe on the European social model and its standard-setting instruments. Ms. Battaini-Dragoni has published widely on a variety of social policy topics in both Anglophone and Francophone academic journals and international publications. Her most recent articles on social cohesion, migration issues, and social security have appeared in such prestigious journals as the European Journal of Migration and Law, the French Revue du Ministere des Affaires Sociales, and the Revue Franco-Quebecoise Sante, Societe et Solidarite. She has also contributed to two World Bank Publications on social exclusion and social standard issues.
Latest articles from Gabriella Battaini-Dragoni