Director of the Journalism Projects Department, University of Navarra
Area of Expertise: Media
Geographical Expertise - Region: Europe
Geographical Expertise - Country: Northern Ireland
Languages: English, Portuguese, Spanish
Field of Work: Academia
Country: Spain
Continent: Europe

R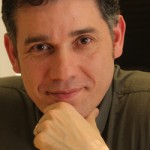 amón Salaverría is Director of the Journalism Projects Department at the University of Navarra (Pamplona, Spain), where he has been teaching online journalism skills for nearly twenty years.
Mr. Salaverría has been Chair of the Journalism Studies Section at the European Communication Research and Education Association (ECREA), during the term 2010-2012. Representing this association, he has also served as member of the World Journalism Education Council.
He is a visiting professor for Master's Programs, both in Europe and Latin America, lecturing on new media trends. Mr. Salaverría has also lead many in-house training programs for several media companies in different countries. During the last few years, he has offered keynote speeches, courses and seminars in 24 countries: Germany, Argentina, Belgium, Brazil, Colombia, Chile, Cyprus, Costa Rica, Dominican Republic, Greece, Honduras, Hungary, Ireland, Norway, Paraguay, Peru, Poland, Portugal, Puerto Rico, Turkey, Ukraine, Uruguay, USA and Venezuela.
Since the beginning of the century, Mr. Salaverría has steadily lead several national and international research projects about online journalism, focusing on media convergence, online newswriting and new media trends.
He has published many research papers and chapters, as well as the following books: 'Diversity of Journalisms' (2011), 'Integrated journalism' (2009), 'Cibermedios' (2005), 'Redacción periodística en internet' (2005), 'Towards new media paradigms' (2004), and 'Manual de redacción ciberperiodística' (2003).
The Spanish national daily newspaper 'El Mundo' has repeatedly included him in the list of 500 most influential Spaniards, more precisely, among the top 25 of the Internet.