Young Global Leader, the Young Global Leaders Forum
Area of Expertise: Law and Human Rights, Women's Rights, Youth Issues
Geographical Expertise - Region: North Africa and Middle East
Languages: Arabic, English
Field of Work: Activist/Humanitarian, Author/Novelist
City: Dhahran
Country: Saudi Arabia
Continent: Asia

Email: nimah.nawwab@theglobalexperts.org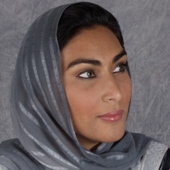 Nimah Ismail Nawwab is a Saudi activist, youth leader, writer, photographer, lecturer and internationally recognized poet. Dubbed a 'voice for Arab women', she touches on present and past issues relating to women and youth.
Ms. Nawwab seeks to build bridges of understanding and has been nominated and serves as Young Global Leader of the Young Global Leaders Forum, an affiliate of the World Economic Forum (WEF) joining new leading executives, public figures and intellectuals from 50 countries addressing global issues. She has been an active speaker and panelist at several WEF Forums.
Ms. Nawwab's work and best-selling English book have been featured in Newsweek, MSNBC, AP, The Washington Post, The LA Times, BBC-World News, BBC-Persia, Asian Age, The Hindustan Times, the Malay Berita Harian, Arabian Lady, Trends business magazine, Arab News, Saudi Gazette, ash-Sharq al-Awsat, Al Hayat, Sayidaty, Al Watan, Elaf, Arabiayyah Net, Sayidaty, Ukaz and others.
She has been interviewed by various television and radio outlets such as the BBC, NPR, Al Arabiya, Channel News Asia, Canadian Channel M, Al Ekhbariyah, Al Arabiyah, on several MBC features and others.
As an activist she has been involved in several women's issues including the forced divorce petition and case, the Qatif gang rape, guardianship of women and professional lives, among others.
She has also conducted several youth forums in several countries, in light of the emerging needs of the new generation.
Professionally Ms. Nawwab worked as a PR specialist at the oil company Aramco serving in various capacities through her career. The first Saudi Arab woman poet to be published in the United States, her pioneering work includes a historic, first-of-its-kind public book signing in Arabia and another in Washington, D.C.
As a reviewer noted:   "Her voice speaks to the truths in all our lives regardless of nationality. It is a voice advocating justice, compassion and a basic respect for the dignity and rights of people everywhere."