President, Sociedade Brasileira de Instrução
Area of Expertise: Civil Society, International Relations, Law and Human Rights
Geographical Expertise - Region: Latin America and the Caribbean
Languages: English, French, Spanish
Field of Work: Academia, Author/Novelist, Non-Governmental
City: Rio de Janeiro
Country: Brazil
Continent: South America

Email: candido.mendes@theglobalexperts.org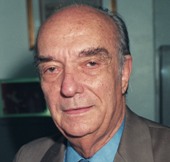 Professor Candido Antonio Mendes de Almeida was born in 1928 in Rio de Janeiro and has worked extensively in the world of academia while serving as the head of many international committees.
He is the author of over thirty books on political science, social sciences, and international relations. He has participated in numerous international meetings as a Brazilian delegate or as a special guest. He has also served as a visiting professor at Harvard, Columbia and the University of California. Since 1998, Professor Mendes de Almeida has been a Professor at Rector of Universidade Candido Mendes. He is also the President of the Forum of Rectors of Rio de Janeiro and the Secretary-General of the Academy of Latinity.
Professor Mendes de Almeida is also a Member of the High Level Group of the Alliance of Civilizations. Since 1962 he has been the President of Sociedade Brasileira de Instrução. He is also a Member of the Brazilian Academy of Letters, the Brazilian Academy of Economics and a Docteur Honoris Causa (Universite de Paris III – Sorbonne Nouvelle). In 2004, he became a member of the Academie des Sciences de Outremer. He was also a Federal Representative by the PSDB, from 1997 to 1998. In 1994 he was a member of the Special Investigation Committee of the Presidency of Brazil. He also served as a General Rapporteur of the Presidential Commission on Corruption in 1994. In 1988 he was General Rapporteur on Human Rights, Education and Culture for the draft of the Brazilian Constitution proposed by the Presidential Commission Affonso Arinos (1986). From 1982 to 1992 he was President of ABM (Brazilian Private Universities Association).
From 1979 to 1982, Professor Mendes de Almeida was President of IPSA (International Political Science Association). He was also Chairman of the Programme Committee of the International Social Science Council (ISSC) and Representative Body of the Non-Governmental Organizations for Social Sciences, (recognized by UNESCO) in 1974. From 1973 to 1976 he was Vice-President of IPSA (International Political Science Association) and First President form 1976 to 1979. He was also President of Pax-Romana in 1971.
Professor Mendes de Almeida holds a Bachelor in Law and Philosophy (Pontificia Universidade Catolica of Rio de Janeiro), 1950 – 1952 and a Doctor in Law (Faculdade Nacional de Direito and Universidade do Brasil) in 1952.