Co-Founder and Executive Director, TransConflict
Area of Expertise: Business and Globalization, Civil Society, Media, Migration and Integration, Minority Rights, Terrorism, War and Conflict
Geographical Expertise - Region: Balkans, Europe
Languages: English, French, Spanish
Field of Work: Non-Governmental
City: London
Country: Bosnia and Herzegovina, Kosovo, Serbia, UK
Continent: Europe

Email: ian.bancroft@theglobalexperts.org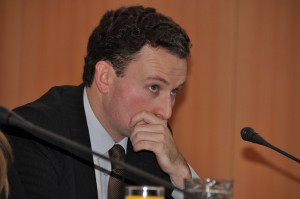 Ian Bancroft is co-founder and executive director of Transconflict, an organization undertaking conflict and post-conflict projects and research throughout the Western Balkans. He writes for The Guardian on Western Balkan affairs, focusing primarily on Serbia, Kosovo and Bosnia-Herzegovina.
Mr. Bancroft's  expertise covers a range of issues, including Kosovo's status, constitutional reform in Bosnia-Herzegovina, the role of the international community, the process of democratic transition, Euro-Atlantic accession, co-operation with the ICTY (International Criminal Tribunal for the former Yugoslavia), regional integration, minority rights and the legacies of the wars of the nineties. Through his work with Transconflict, he possesses a variety of practial and theoretical insights into inter-ethnic relations throughout the region, especially the predominantly ethnic-Albanian south Serbia, the Serb-populated north of Kosovo and the largely Bosniak corner of south-west Serbia.
He has also published analysis in Transitions On-line, Radio Free Europe, Business New Europe and Balkan Insight, and has provided political commentary for a range of media outlets and think tanks, including the International Relations and Security Network (ISN), the Kosovo Compromise Project, Alternativna TV and Buka (Bosnia and Herzegovina), Glas Javnosti (Serbia) and the Southeast European Times.
He has experience giving interviews for TV, radio and newspapers, and has spoken at several international conferences on topics such as 'Comparative experiences in facing ethnic conflict and solving questions of borders and perspectives on ethnically divided societies and cities' and 'Perspectives on the media and inter-ethnic relations in the Western Balkans'.
Mr. Bancroft was previously employed as a consultant to the Democratization Department of the OSCE Mission to Bosnia-Herzegovina, where he worked on strengthening local governance and civil society. He completed his undergraduate and post-graduate studies at the London School of Economics (LSE), focusing primarily on democracy and democratization, particularly in deeply-divided societies.
Latest articles from Ian Bancroft