Analyst, Kommersant
Area of Expertise: Business and Globalization, Civil Society, International Relations, Media, Terrorism, War and Conflict
Geographical Expertise - Region: Asia
Geographical Expertise - Country: China, Russia
Languages: Chinese, English, Russian
Field of Work: Journalist/Commentator
City: Moscow
Country: Russia
Continent: Europe

Email: alexander.gabuev@theglobalexperts.org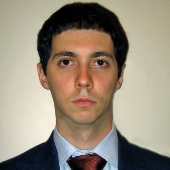 Alexander Gabuev is an analyst and political observer at Kommersant, the leading Russian business newspaper.
Mr. Gabuev joined Kommersant in 2003, when he served as Chinese correspondent while on a year-long study course at Zhejiang University in Hangzhou. Following his return to Moscow, he joined Kommersant as a staff writer and continued his research at the Institute of Asian and African Studies (IAAS), Moscow State University, on the rise of Chinese nationalism.
As a journalist, Mr. Gabuev has published more than 700 articles covering international politics with a special focus on the Chinese economy, domestic and foreign policy, Russia-China relations, Russian energy policy and diplomacy, the Chinese ruling elites, Russian foreign and economic policy, China and Central Asia. He reported from the 17th Congress of Communist Party of China, and covered the post-war political process in Georgia's breakaway region of South Ossetia, and the 2008 OSCE session.
At the same time, he has published numerous academic papers on Chinese diplomacy, energy policy and relations with Russia for Power Journal, Asia and Africa Today, and Russia and China in the XXI Century. Since 2007 Mr. Gabuev has taught a course on China's energy diplomacy at IAAS.
He holds a BA and MA in Chinese history from Moscow State University.
Latest articles from Alexander Gabuev