By Naveed Ahmad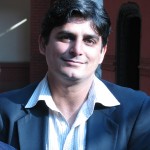 Listening to his speeches has been a moving experience, for believers and political activists alike. This self-styled political redeemer, for instance, told a captive multi-religious Southern California congregation on February 4, 2008:
"What began as a whisper has now swelled to a chorus that cannot be ignored, that will not be deterred, that will ring out across this land as a hymn that will heal this nation, repair this world, make this time different than all the rest. Yes we can!"
Sewn in language of faith and uttered like a southern preachers, the fervour of a church service still enthrals a certain reader.
The deliverer of the sermon was no prophet or saint but Barack Obama, and the occasion was his campaign trail for the coveted Oval Office.
"We are the ones we've been waiting for," Obama intently injected testimonial fervour to the message.
The 2008 campaign, according to some critics, was more about psychological uplifting of a depressed nation. Against insipid, artificial speeches of former president Bush, the Illinois senator elected to use language of faith and delivered in a revivalist style than anything more structured to boost a limping, debt-ridden capitalist financial dinosaur.
Obama spread the message of hope and change from a much grander position, as if he was spiritual icon of a new world community. Come November 5, he bagged a blowout victory against Senator McCain. His shrewd campaign and priestly power of oratory won Obama a lead of over 7 million votes, three and half times bigger than George W Bush's in 2004.
Euphoria died sooner did he assumed the presidency. By 2012, the promise of 'hope' faded and 'change' only realised for the Obamas. His words crafted with salvific themes evaporated in thin air.
For disgruntled and disillusioned Obamians, no theories in failed leadership but a spoof version of Gotye's hit indie song, Somebody that I used to know, has solace. With his campaign picking up pace and Romney and his aristocrat running mate Paul Ryan pushing the president's public rating, the song – Obama that I used to know – has gone viral on YouTube and the rest of social media. Belgian-Australian musician and singer-songwriter Wouter Wally De Backer alias Gotye must be loving the way Comedian Justin Monticello and his team revived his chart.
The parody with its biting lyrics speaks for disillusioned Democrats for cutting them off amid soaring unemployment. Despite the addition of 80,000 new jobs in June, the joblessness remains high at 9.1 percent (according to BBC) while the percentage is 14.4 percent amongst black Americans.
The next dig about Nobel Peace Prize winners having a kill list brings to the fore questions pertaining to the ongoing CIA operations. However, Obama's bid for assassinating Osama bin Laden gets a back-ended compliment. The parody brings forth the forgotten promise of shutting down Guantanamo Bay, a promise the US president had made during initial days resulting in his popularity soaring to new highs in the Muslim people across the world. Come the next election campaign, the popular would haunt the Nobel laureate.
Disenchanted college graduates lament over Chinese control over the US consumer market besides the power of borrowing institution such as Goldman Sachs.
For all practical purposes, the original number – Somebody that I used to know – offered the amateur songwriter and singer all the room for sarcasm as the spoof brings in a distant yet important issue of predator drones. The US-based investigative journalism institute, Pro-Publica, say out of over 300 drone attacks in Pakistan alone since 2004, the Obama administration carried out 263, based on weak intelligence and high non-combatant death toll.
Though the parody's theme reflects a sense of grievance than that of anger and rejection, it has been by far the most provocative political song about the administration, sparking serious debate even on YouTube. For a few, the song was funny but for most it touched where it hurt the most. The satire may become a precedent for bolder and harsher jibes on the 'optimist'.
For Muslims and Pakistanis, Obama became a symbol of hope and understanding too. We, naïve Pakistanis, expected nostalgic sentiment for Pakistan where he lived or visited at two different times in his life. My Indonesian friends used to be more optimistic about Obama's association with Indonesia owing to his childhood memories and some knowledge of the language. While the Pakistanis have given up on the man, the Indonesians are still hoping.
Now that Willard Mitt Romney and Paul Ryan are lashing out at the lousy Obama administration, none of the Republican teammates has a fraction of oratory the incumbent is equipped with. That's of course an altogether different matter, if inspirational sermons would do the trick this time around as well.
Obama's media managers did think smart but the homework was not good enough. 'Zero Dark Thirty', a movie by Oscar-winning production team of The Hurt Locker, won't be released on October 12, three weeks ahead of election day. What makes the Hollywood film relevant is the very subject it deals with, the assassination of Osama bin Laden. The thriller, as it appears from the one and a half minute trailer, is a result of exclusive briefings at the Pentagon and the CIA offices to ensure a closer semblance to details of the operation.
With the film's premier delayed till December, Obama's most powerful tools remain his own words and their dramatic expression. While Republican criticism may turn out to be typical as ever, the debate is surely going to get greater in-depth and pro-people fervour, courtesy Rocky Anderson, a former democrat who also supported Mitt Romney once but is now running for the presidential office.
Anderson is America's third force, somehow like Imran Khan in Pakistan. Both come from their respective justice parties and have an impressive past record. The former mayor of Salt Lake City has been more of an activist than a typical aristocrat like Romney. Lawyer by training, he was a vocal opponent of Bush's foreign policy and stood firmly for human rights. Only in 2011, Anderson formed his Justice Party hoping to win the presidential race or at least make his mark the way Teddy Roosevelt or Ross Perot did despite losing.
He detests two-party monopoly and special-interest money in the US politics. The man dares to challenge the interests of pharmaceutical and insurance companies when it comes to healthcare issues. Anderson stands for economic justice, social justice and environmental justice while Obama is moving slowly with his plans to create jobs and Romney and Ryan are the icons of typical fiscal conservatism.
Listening to him some time ago reminded me of our encounter with former vice president Al Gore in September 2000. The man resembles him both in idiom and style. Anderson is not shocked that Obama could not deliver for "he was under the corrupting influence of big money".
The cool and calm presidential candidate seems to believe that his party won't be another Green Party to spoil the election result or sway them from one direction to the other. He means business and swears in change. In one of his interviews with Russia Today, he referred to the winds of changes sweeping across the Middle East and North Africa and disrupting the status quo. Somehow sounding like Pakistan's Imran Khan, Anderson sees the American political system decaying under the heavy influence of corporations.
While Obama may again get the lion's share from Wall Street donors and Romney enjoys unequivocal support of Fox News et al, Anderson so far has much respected but less popular media outlets such as The Nation and the cluttered social media.
Without big money, media and personal charisma, Anderson can only vie to become Teddy Roosevelt of the 21st century by dominating the agenda for the next presidential elections. For Obama, his emotive speeches and some amount of luck can ward off a staunch right-wing advance to the White House. In an ideal world, the choice should be between Obama and Anderson! The world needs a break from the Tea Party ideologues!
Naveed Ahmad is an investigative journalist and academic with background in security, diplomacy and the Middle East. He has reported the ongoing uprising from inside Syria. He can be reached @naveed360
The article originally appeared in The News International, Pakistan's largest circulated daily newspaper.